Welcome to EveryonesCanada.ca! These Terms & Conditions govern your use of our website and services related to social assistance in house construction and government discounts for building. By accessing and using our website, you agree to comply with these terms. Please read them carefully.
EveryonesCanada.ca provides information and services related to social assistance in house construction and government discounts for building in Canada. The information on the website is for general informational purposes only and should not be considered as professional advice. We do not provide any guarantees or warranties regarding the accuracy, completeness, or reliability of the information provided.
Acceptable Use
You agree to use the EveryonesCanada.ca website and services for lawful purposes only. You will not engage in any activities that may harm the website, its users, or interfere with its proper functioning. Prohibited activities include but are not limited to:
a. Unauthorized access to the website or its user accounts.
b. Distributing harmful software or malware.
c. Violating any applicable laws or regulations.
d. Attempting to gain unauthorized access to the website's systems or data.
Intellectual Property
All content on the EveryonesCanada.ca website, including text, graphics, logos, images, and software, is protected by intellectual property laws and is the property of EveryonesCanada.ca or its licensors. You may not reproduce, modify, distribute, or use the content without prior written consent from EveryonesCanada.ca.
Privacy Policy
We take your privacy seriously. Our Privacy Policy governs the collection, use, and disclosure of your personal information. By using our website and services, you consent to the terms outlined in the Privacy Policy.
Third-Party Links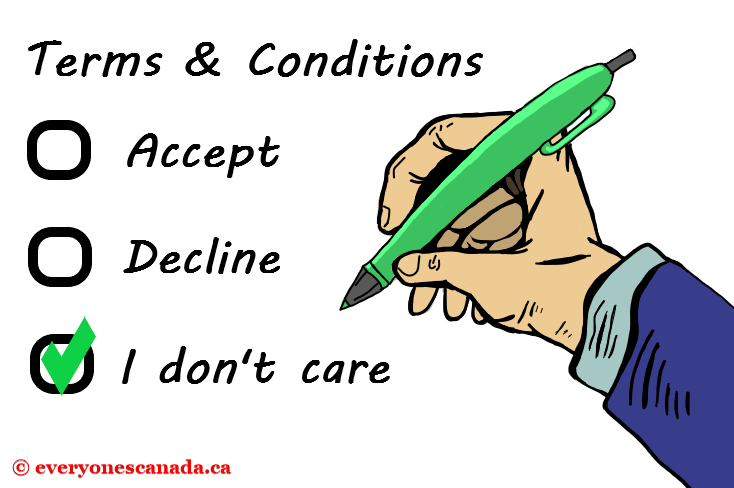 EveryonesCanada.ca may contain links to third-party websites or services for your convenience. We do not endorse or control these websites, and we are not responsible for their content or practices. Visiting third-party links is at your own risk, and you should review their terms and privacy policies.
Limitation of Liability
EveryonesCanada.ca and its affiliates, partners, and employees will not be liable for any direct, indirect, incidental, consequential, or punitive damages arising from your use or inability to use the website or services. We do not guarantee the availability or accuracy of the website at all times.
Indemnification
You agree to indemnify and hold EveryonesCanada.ca harmless from any claims, losses, damages, liabilities, and expenses (including legal fees) arising from your use of the website or violation of these Terms & Conditions.
Modification of Terms
EveryonesCanada.ca may update these Terms & Conditions at any time without prior notice. It is your responsibility to review the latest version regularly. Continued use of the website after any changes implies your acceptance of the revised Terms.
Governing Law
These Terms & Conditions shall be governed by and construed in accordance with the laws of Canada, without regard to its conflict of law provisions.
Contact Us
If you have any questions or concerns regarding these Terms & Conditions, please contact us at [email protected].
By using EveryonesCanada.ca, you acknowledge that you have read, understood, and agree to abide by these Terms & Conditions.